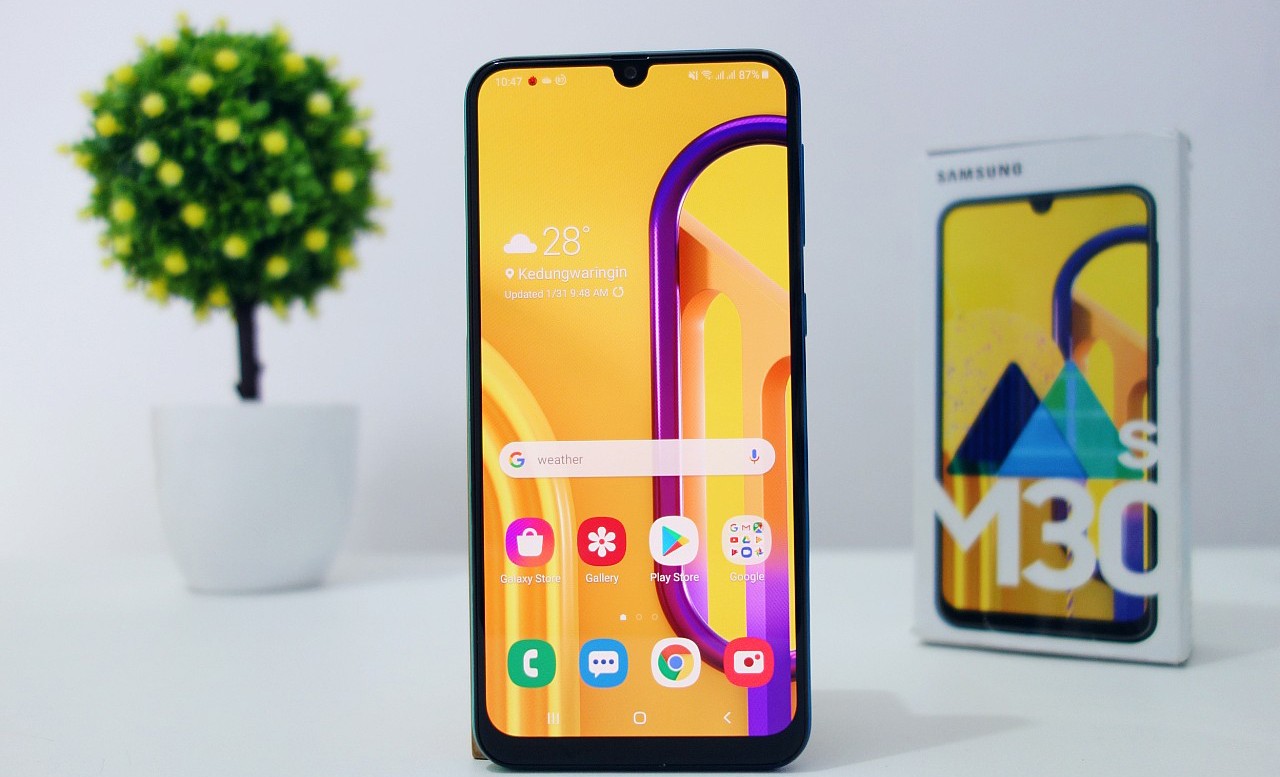 Gadgetren – Following the smartphone competition with large capacity batteries in Indonesia, Samsung officially launched the Galaxy M30s in 2019 ago.
This smartphone has an advantage in its 6,000mAh battery. In addition, Samsung claims that charging the battery can run quite fast thanks to the presence of the 15W Fast Charging feature.
With the hardware specifications and features it brings, is the Samsung Galaxy M30s a middle-class smartphone that can compete in the range of Rp. 3 million?
To reduce the price to be affordable, the Galaxy M30s uses a body made from plastic wrapped in three color choices consisting of Black, White, and Blue. Incidentally, the unit that I use has a Blue color.
Uniquely, the color Blue presented on this smartphone looks like a blend of gradations of blue and green whose transition is seen vertically. There is also a sprinkling of shiny particles that adorn the rear body.
Although using a large capacity battery, but the thickness of this smartphone only reaches 8.9mm. In contrast to smartphones in the past that have a thick body because the battery with jumbo capacity has a large size.
While its weight also only reaches 188 grams. With this weight and thickness, I can still comfortably use it in my daily activities. Especially I can hold it with one hand for a long time thanks to the curved designs on both sides of the back.
But the back of the smartphone's body is easily stuck to dust or fingerprint marks. In other words, this smartphone user should embed an additional casing to keep the rear body clean.
Unfortunately Samsung does not provide additional casings in the sales package of this product so those of you who have or want to buy Galaxy M30s can buy additional casings from third parties that are widely available in online stores with a variety of price variations.
Still on the back, there are three cameras and an LED Flash light put together in a box house. While the fingerprint sensor and the Samsung logo are placed in the center.
At the front, there is a selfie camera with a water drop design right at the top of the screen. While on the side there are power buttons, volume, SIM + microSD card slot, a 3.5mm audio jack port, USB Type-C, microphone, and speaker.
Samsung Galaxy M30s screen appears flat that meets the front plus left and right bezels that are not too big. While the bezel on the top becomes small, thanks to the fringe shaped water droplets used to pin the selfie camera.
This smartphone has a screen that can be considered large because it has a width of 6.4 inches with Full HD + resolution (2340 x 1080 pixels) and a brightness level of up to 420 nits. Super AMOLED technology that is present on the screen is able to display content brightly and sharply.
Even this technology makes me still able to see the content even when I am in the hot sun. Almost the same as today's smartphones, the Galaxy M30s screen has Blue Light Filiter support which is claimed by Samsung to protect the user's eyes from blue ray radiation.
Following the current trend, the Galaxy M30s also comes with three rear cameras that have various functions to make users creative in producing interesting photos.
This smartphone has used the One UI 1.5 interface system based on the Android 9 Pie operating system. Compared to the Samsung Experience UI, the interface of One UI 1.5 looks cleaner and is arranged with a large font size making it easier for me to see the menu clearly.
While this interface system presents a little bloatware so you won't be too disturbed by Samsung's default applications that sometimes aren't used at all. Interestingly, this bloatware can be removed if you don't need it at all.
When I navigate and switch applications, One UI 1.5 is able to respond to my touch well. You could say this system interface feels light when making the transition from one application to another.
The fingerprint sensor on the back of the smartphone is arguably responsive because it can recognize my fingerprint quickly. But the surface which is almost parallel to the back of the body makes me sometimes put a fingerprint on the part that is not a fingerprint sensor.
As an alternative to this fingerprint sensor, I can also unlock the screen using a face thanks to the presence of Face Unlock. This feature can move me quickly, even in low light conditions.
When conditions are poorly lit, the Face Unlock feature will automatically raise the screen brightness level to recognize my face.
Samsung Galaxy M30s are able to deliver smooth performance when I use it in my daily activities. 4 GB RAM capacity is one factor that makes the multitasking process of this smartphone smooth and stable.
While the Exynos 9622 Octa-Core chipset and AI Game Booster play quite a role in delivering good performance when I run several popular games, such as Mobile Legends, Call of Duty Mobile, PUBG Mobile, and Final Fantasy XV Pocket Edition.
In addition to Final Fantasy, I can run all three games with high graphics settings well. Although there is a high frame rate setting, but these three games should use a standard frame rate so that it can run more smoothly.
While Final Fantasy XV Pocket Edition will immediately give suggestions for the use of graphics and medium frame rates to run smoothly.
Next, I also benchmarked the Galaxy M30s using AnTuTu Benchmark v8.1.9, Geekbench 4.4.2, and Geekbench 5.1.0. This smartphone managed to get a score of 180,791 points on the AnTuTu test.
This device also scores 1,692 points for Single-Core testing and 5,607 points for Multi-Core in Geekbench 4.4.2. While the score of 355 points for Single-Core and 1,295 points for Multi-Core was obtained in Geekbench 5.1.0.
Some of these tests show that the performance of the Galaxy M30s is able to compete with other middle class smartphones in Indonesia.
Galaxy M30s has internal storage that reaches 64 GB so that it can store videos, music, photos, applications and games quite a lot. But if you feel the internal capacity is felt less relieved, it can add microSD up to 512 GB.
The battery is one of the features featured on the Galaxy M30s because of its capacity that reaches 6,000mAh. In testing using the PC Mark application with a screen brightness level of 50% and a battery level starting at 100%, this smartphone is able to get a score of 20 hours 58 minutes until the test ends at the level of 15%.
But when I use it in my daily activities, the Galaxy M30s managed to get a 9-hour 30-minute screen-on-time in standard daily usage from 100% to 0% battery power.
Thanks to the support of 15W Fast Charging, charging the battery takes 3 hours 7 minutes from the battery level of 1% to 100%. When charging is arguably fast considering the battery capacity it has is very large.
Concerning photography matters, the Galaxy M30s comes with three rear cameras that have a combination of 48 MP main camera (f / aperture 2.0), 2 MP secondary camera (f / 2.2 aperture), and 8 MP ultrawide camera (f / 2.2 aperture).
The main 48 MP camera that is present on this device is capable of producing photos well in daytime and nighttime conditions. But by default, the default camera application Galaxy M30s will produce photos with 12 MP resolution thanks to 4-in-1 pixel binning technology that is able to combine several pixels into one.
To be able to produce photos that are truly 48 MP resolution, you must first activate the mode. The Night Mode feature has also been present on smartphones, but the results are not too different from taking photos using Auto Mode.
Fitur Live Bokeh yang hadir pada aplikasi kamera bawaan Galaxy M30s mampu mengombinasi kamera utama dan sekunder untuk menghasilkan foto berefek bokeh (latar buram) secara instan.
Kamera ultrawide smartphone ini mampu menghasilkan foto yang luas hingga sudut 123 derajat. Dengan sudut seluas ini, membuat saya dapat menghasilkan foto dengan area lebar yang tidak dapat diambil oleh kamera utamanya.
Beralih ke bagian depannya, terdapat kamera selfie beresolusi 16 MP ditambah apertur f/2.0 yang mampu menghasilkan foto selfie dengan variasi yang menarik.  Saya bisa membuat foto selfie secara normal, efek beauty, dan berefek bokeh (latar buram).
Selfie Normal
Selfie Beauty
Selfie Bokeh
Dari semua fitur yang ditawarkan, menurut saya Galaxy M30s ini mempunyai dua keunggulan yang terdiri dari daya tahan baterai yang lama dan dukungan tiga kamera belakangnya yang mempunyai bermacam fungsi.
Performa yang ditawarkan oleh perangkat ini cukup bertenaga untuk ukuran kelas menengah. Sementara sensor fingerprint dapat merespon sidik jari saya dengan cepat, meskipun permukaannya hampir sejajar dengan bodi belakangnya.
Untuk mampu bersaing dengan smartphone kelas menengah lainnya di Indonesia, Samsung menghadirkan Galaxy M30s dengan harga terjangkau yang mencapai Rp 3.299.000. Smartphone ini cocok bagi kamu yang menginginkan smartphone dengan daya tahan baterai lama, namun dengan dana yang tidak membuat kantong jebol.
Sayangnya walaupun punya baterai berkapasitas besar, smartphone ini harus kehilangan sensor NFC.  Meskipun begitu, Galaxy M30s memiliki fitur-fitur yang baik untuk perangkat ukuran kelas menengah.